A family in need of a cemetery monument for a loved one who has passed away may find itself confused by the multitude of options available in today's memorial products industry. While it is true that cemeteries traditionally offer a good selection of headstones and other cemetery monuments for their customers, it is also true that there are many other establishment in just about every city in the United States that also over an even greater selection and often lower prices. In fact, it is often the case that the very same monument or headstone offered to a family by a cemetery plot sales person is available from numerous other sources (usually online retail outlets) at a savings of 100's of dollars. Occasionally, the price savings could even be in the 1,000's of dollars.
So, to help families navigate the often complex world of cemetery monuments without having to necessarily rely upon the expertise of a cemetery plot sales person (who is, after all operating on a motive to sell as much merchandise as possible), we have assembled this explanation of the basic features that families might be interested in as they consider their needs.
Upright Cemetery Monuments
When most people who are not schooled and experienced in the memorial products industry think of a cemetery monument, they tend to think of upright cemetery monuments. These elegant pieces are the stuff of legends in cemeteries across the world. They are often elaborately designed and even expensive sculptures intended to keep a family's legacy alive for the ages as centerpieces for an entire set of graves that are marked by flat cemetery monuments (discussed in the next sections). These upright cemetery monuments are typically the centerpieces of just about any cemetery.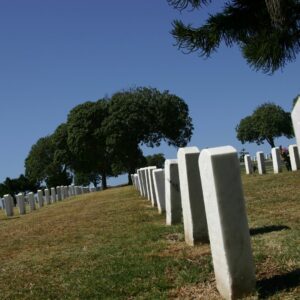 And they are more affordable than one might suspect.
Upright monuments today, because of their size and intricate detail, are often today commissioned by local monument makers who sometimes have special financial arrangements with the local cemeteries that play host to their creations. This arrangement works well when a family wants to have very close watch over the design process and the installation. But it can be much more expensive than the alternatives. In today's memorial products industry, many beautiful upright cemetery monuments are available in pre-made fashion from internet retailers who simply engrave a family's hand-selected inscriptions and graphics onto the piece and ship it to a cemetery. While it is true that ordering these pieces require a family to give up a little control over the customized look that they could get if they commissioned a completely original headstone from a local artisan, it is also true that these pieces are both beautiful and elegant. And, with the ever increasing selection available from many internet retailers today, the chances are strong that a family can find precisely the monument it needs just by searching through a retailer's website.
Flat Cemetery Monuments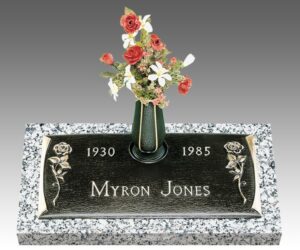 Flat cemetery monuments, meanwhile, are much less expensive and more common in today's cemeteries. In fact, many cemeteries in today's death care industry, flat monuments are all that are allowed. Since these are the most common, it is worth devoting a few words to the various materials, styles and sizes in which these pieces are available (as with upright cemetery monuments from both outside retailers and cemeteries alike).
Flat cemetery monuments are generally available in two broad categories – bronze on granite pieces and just granite. The bronze on granite monuments consist of bronze plaques adhered to granite basis. The plaques vary in size from 12inches by 24 inches to 24 inches by 36 inches. Other sizes are sometimes available too. In general, granite base leaves about a 1 inch margin around the entire bronze plaque.
With granite monuments, the engraving is done directly on the granite base itself. Generally, this allows the monuments to be sold for less money than the bronze on granite pieces, but engraving artists also have somewhat more flexibility to create unique designs that may not be possible in the more rigid confines of bronze art.
Bronze and granite grave marker monuments are similar in that they are typically available in mass produced formats that make them inexpensive for the consumer, but, while the designs offered by most retailers are generic, they are also plentiful. Perusing through the selection offered by a typical retailer has the potential to yield hundreds of worthy candidates for a family's selection for their loved one, and may initiate hours of discussion among family members about which design to choose. To further personalize a flat grave marker monument, families typically have dozens of options for the granite color they can choose. It is true that many cemeteries have very specific rules for what colors may be used on the monuments on their property, but, absent that restriction, some families find themselves with the delightfully frustrating task of sorting through more color options then they probably ever thought were possible.
Yet another advantage that flat cemetery monuments have over upright markers is simply their size. A crew of just two people – and sometimes even just one man – easily manage to install a flat grave marker with a minimum of fuss (if they are experienced, that is). Expensive mechanical tools are rarely ever required for such work, too. Meanwhile, an upright marker can be a complex thing to install in a cemetery. Depending on the complexity of the design, the crew that installs the marker may be required to follow specific instructions, written just for that particular monument, from the sculptor himself. And in most cases, mechanical, hydraulic equipment will be necessary (either that or a multitude of people.)
Standard Text Features of a Cemetery Monument
Families often wonder as they are deciding on the details of their cemetery monument, what text should be engraved on the marker. While there is no formal answer to this question, there are some guidelines that people wanting to build a good, effective memorial for a family member can follow.
First, a cemetery monument should almost always include a few words that are intended to be a special tribute to the deceased. This is usually known as an epitaph, a short phrase that perfectly summarizes the life of the man or woman to whom the memorial is devoted. Epitaphs are often quotations from The Bible, or perhaps even quotations directly from the deceased himself. And in other cases, an epitaph is a phrase that describes a significant contribution the deceased made to the life of others. Epitaphs of this type focus on the person's role as a family member, mentor, teacher, leader, or simply a role model. "He was a great friend, father, and devoted pastor," one epitaph might read, while still another might focus on the great work the deceased did as a "teacher of precious souls."
Though the epitaph is usually the key, central element in a text of a cemetery monument, there are some other standard features that a family should not neglect to include on the piece. (Of course the sales person who takes the order for the monument will most certainly guide the family into making sure these elements are included.) The first of this is the exact name of the deceased. This is important for historical purposes. Helping future generations to be sure they have found the grave of the same person they have seen mentioned in public documents is an important part of assuring that a person's legacy survives well into the future. It is often the case that a person's nickname is different from the name listed on public records. In this case, the best thing that a family can do is to list the nickname with quotation marks surrounding it so as to keep confusion to a minimum when future generations come to the grave site in hopes of tying up loose ends in their historical research.
After the name, the next important piece of information is the dates of birth and death. Again, as with the exact legal name, having the correct dates listed on a headstone cemetery monument is important to assure that the identity is accurate when researchers being to study a grave site. In earlier decades, the dates of birth and death on a typical grave marker often included only the year. While this is still a common trend, genealogical experts warn against it for reasons of identity. The best thing to do is find enough space on a headstone to assure that the full dates – month, day and year – can be listed. Even if this means that an epitaph must be adjusted in order to account for the extra space, historians and other social scientists say the sacrifice will be appreciated in ways that we will never know.
And, finally, affiliations with important civic groups, churches and military service branch are often included in the text of a cemetery grave marker headstone. Because the complexities of human life often lead us to be involved with more groups than can be listed briefly on a headstone, this practice is less common in recent years than it had been formerly. But, still, if it can be done, genealogists and other historians advise families to do it.
Graphic Options for a Cemetery Monument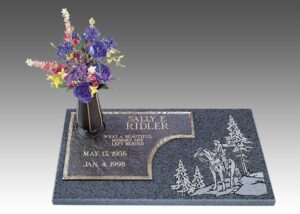 A cemetery monument will often also include graphic elements that help to preserve a person's legacy for the ages. Most of these options are built in to the pre-established designs offered by manufacturers, but, as we mention above, there is an ample selection of these designs available from most retailers to help assure that a design can be found to adequately represent the deceased. Further the pre-drawn designs can be modified with a few optional design elements that we will describe in the rest of this section.
It may be surprising for many who have not purchased a cemetery monument in a few years to see the amazing personalization that can be added to a headstone with a ceramic picture. These beautiful pieces are manufactured separately from the headstone and applied by the customer at the cemetery itself. In a nutshell, the ceramic picture manufacturer will transfer a full color picture of the customer's choice to a piece of long-lasting, very sturdy ceramic that is designed to last for decades. Once installed, the ceramic picture can give a headstone a feature that was once thought impossible: a real-life, photographic image of the deceased. In some cases, families choose to use on their ceramic picture a photograph of the deceased posing with others (such as a spouse, child or sibling). This practice can be of special interest to historians and genealogists because it does something that grave markers of the past were not able to do so readily – it shows relationships between people.
Also, a cemetery monument can also include logos of groups that were important in the life of the deceased. Most cemetery monument manufacturers are able to offer their customers a wide selection of logos that can be engraved upon their marker. These logos include everything from famous corporate insignia to military logos to the slogans for various well known civic groups and non-profit organizations and religious groups. While other personalization options such as ceramic pictures mentioned above usually require an extra fee, many (if not most) headstone retailers offer at least one logo from their library for no additional charge to the customer. The use of these logos offers a great benefit for genealogists who are interested in making societal connections for the deceased relatives whose graves (and lives) they study.
And, finally, most bronze on granite cemetery headstone monuments can be outfitted with a three dimensional graphic element that, for many families has become a precious family heirloom – bronze vases. The beautiful pieces can be either displayed or hidden underneath the monument and can hold beautiful arrangements of flowers that can be shown on special occasions such as special holidays, birthdays or anniversaries.