Funerals in today's modern world in the United States can be said to have several key elements: a viewing ceremony, an indoor memorial service, a graveside service, and a reception. And, as the funeral home industry takes a great deal of criticism from consumer groups over the excessive price of arranging for all these elements (a typical price for all of these elements can range to $14,000 or more) many families (and even some funeral homes) have begun exploring ideas for ways to consolidate these elements, thereby saving money. Accordingly, the traditional graveside service is one of the primary targets for consolidation – or eliminating all together — for many families.
From a historical perspective, this may seem a tragic development for our modern culture. Graveside services are a part of our history, having been depicted often quite famously) in many movies, books and other dramatic works of art over the years. (Movies such as the Godfather Trilogy come to mind immediately, but there are many others.) It seems strange to think that future generations will perhaps be puzzled, perhaps even amused, by those images of small crowds dressed in black surrounding a grave site – often underneath a small canopy – just before a body is laid to rest. While, to be sure, plenty of iconic images exist in our culture of traditional funeral services being held indoors inside a church or other large meeting space (the famous funerals of Coretta Scott King or the United Kingdom's Princess Diana, for example), it seems that the graveside service has become culturally synonymous with an entire funeral itself.
So, before the traditional graveside service at a cemetery becomes simply a part of history, it seems important to explore the topic in detail in the remainder of this article.
Elements of a Graveside Service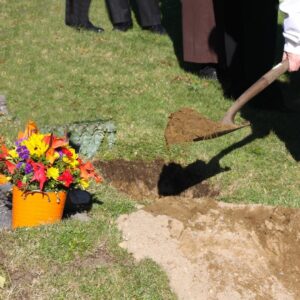 Traditionally speaking, a cemetery graveside service occurs near the end of the several days worth of events that are often scheduled in honor a deceased person in our modern world. It usually occurs just before the family reception. Families and friends of the deceased will typically depart from a church or other meeting place where the main funeral service is held and drive in slow, orderly procession behind a hearse with the body to the cemetery where the deceased will be laid to rest. At the cemetery, the congregation will gather again under a canopy set up over the graveside, where the deceased's casket has been placed atop a support over the grave itself. (The dirt removed from the grave is usually a tasteful distance away from the canopy, where it does not typically draw attention to itself. A pastor (usually, but not always, the same one who presided over the main ceremony) will give another set of very brief remarks and a short prayer. Flowers and other tokens of appreciation and respect are then presented to the family members, and pall bearers will each place his boutonniere upon the casket. During military funerals, Taps is usually played during the graveside service, and a memorial flag is presented to the family. Depending upon the choices of the family, the casket may be lowered into the grave by cemetery workers in the presence of the congregation assembled under the canopy, but, in many cases, that is done after the group has left. Whatever the case, the group typically travels from the cemetery to whatever site has been announced as the location of an after-ceremony reception and meal with the family.
A relatively resent twist to this tradition seems to be catching on in an attempt to help family's save money on transportation from the church to the cemetery for the graveside service. It is often the case in recent years that families will elect to hold a reception and a meal in a fellowship hall on the church property (or otherwise nearby) after a main ceremony. Approximately an hour or so into this reception, an announcement will be made that all who are interested in attending the graveside service will gather and carpool, informally. This arrangement helps families avoid the expense of multiple limousines both too and from the church and police motorcycle escorts along the route to the cemetery. Further, the graveside service after the reception typically assures that the attendance at the grave site will likely be an intimate gathering of just the closest family and friends of the deceased. Many families prefer that.
Who Organizes a Graveside Service
Graveside services are typically arranged by the funeral director the family hires to oversee the entire set of events that make up the memorial ceremony. The funeral director will usually work closely with a pastor and cemetery staff to make these arrangements, and the family, of course, has the final say on all matters related to the ceremony (unless the family specifically assigns that to the church as is sometimes the case). One of the reasons graveside services are being skipped in many cases today is because of the prices funeral directors and cemeteries often charge for their services in organizing these events. A funeral director working for a funeral home will send families a bill for up to $800 for the 10-to-15 minute service, and the cemetery will often ask for a similar amount. Skipping the graveside service can, therefore, save a family more than $1,000 off the overall cost of a funeral.
Do I Need a Graveside Service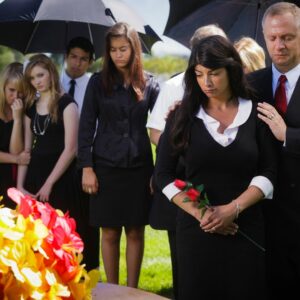 Whether a family needs a graveside service at a cemetery to adequately celebrate the life of a lost loved one loved one is a deeply personal decision that cannot be adequately addressed for everyone in this article. But, in general, a growing number of people and families have found that a graveside service is not at all a necessity. This conclusion comes, in many ways, as a reaction to the prices that cemeteries and funeral homes charge for arranging a graveside service. But that is not the only reason for it. Increasingly, graveside services are even not part of the overall memorial ceremony plan for people who are to be buried in small, very private, or church-run cemeteries in which no funeral director or cemetery staff is paid a dime. The consensus in these cases seems to be that one main ceremony in a church or some other public gathering place is sufficient to honor the memory and life of the deceased. It has been noted among many who have discussed this topic in online blogs and other articles that attendance at graveside ceremonies has been seen to be dwindling significantly over the years. "A lot of people are ready for some food right after a funeral," one blogger said. "There doesn't seem much point in making them drive to a cemetery to hear again what they've just spent an hour listening too and then drive back to the church for their meal. Just let them eat! And celebrate the blessed life that they came to remember!"
If the graveside service is to eventually become a relic of decade's past, it will likely fade away gradually, funeral experts predict. The new tradition of hosting funeral goers for a meal before slipping away for the graveside service will likely become the most popular choice in the interim. If family's cannot save the entire cost of a graveside service by such a decision, they can at least save themselves a few hundred dollars (actually for larger funerals, the price will approach $1,000) on the price of police escorts and limousine services for the trip from a church to the cemetery.
Alternatives to a Graveside Service
If graveside services are to eventually go out of style, it may be comforting to know that there are a number of alternatives (aside from the post funeral reception we have mentioned above) that families can choose from. Almost all of these involve cremation, which is becoming more popular with every passing year. Many families have taken to having special ash-scattering ceremonies at particular spots where a deceased loved one has request his or her remains be spread. Also, a dedication of a special spot where a cremation urn will be permanently stored has been known in recent years to often take the place of a graveside ceremony. And still further, many families have started traditions whereby an after-funeral reception includes a brief, informal ceremony, in which a small portion of the deceased's remains are distributed to mourners via small keepsake cremation urns and even cremation jewelry.
And, finally, many families have begun a tradition of simply holding informal graveside services on special days – holidays, anniversaries, birthdays, etc. – these can happen without a lot of fan fair at a cemetery and they certainly require no additional fees (unless, as is often the case, some family and friends wish to bring flowers or other grave adornments to place on the site). Because the grieving process often lasts more than just a few days that are typically devoted to the traditional elements of a memorial service holding a graveside service such as this even months after a deceased friend or family member's death, can proof as mentally healthy as it is economical. In fact, it stands to reason that these types of graveside services may, in fact, become the main tradition of the future.